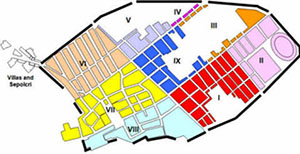 Use the pompeiiinpictures interactive map, buttons or links to view pictures of the excavations at Pompeii of every regio, insula, house, shop, villa, temple, baths, altar, fountain, gate, tomb or tower.
Please click on a Regio of the coloured plan to go to the next plan and to the photographs or click on one of the links below.
Regio: I II III IV V VI VII VIII IX
Altare nelle strade Street Altars
Archi Arches
Terme Baths
Fontane e acqua Fountains and water
Le Porte Gates
Mappe di Pompei Maps of Pompeii
Edifici pubblici Public Buildings
Vedute di ogni strada Street views
Templi Temples
Templi a Pompei Pompeii Temples
Santuario extraurbano Suburban Temples
Località Case Bottaro, Nettuno Neptune.
Fondo Iozzino Zeus Meilichios
Sant'Abbondio Temple of Dionysus
Mitreo di S. Maria Capua Vetere S. M. Capua Vetere Mithraeum