I.19.4 Pompeii. This entrance may have provided access to House of

Earinus

.
(Only the street fronts have been excavated, c.1932-34 see CTP IIIA, p.34)
<![if !vml]>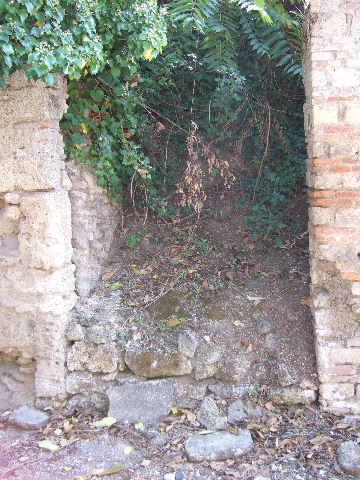 <![endif]>
I.19.4 Pompeii. September 2005. Entrance doorway, looking south.
According to Della Corte, an electoral recommendation written to the left of the entrance doorway, proved that a certain Earinus lived here. [CIL IV 7387]
Another recommendation found here mentioned a new interesting facetious group of electors, written to discredit the unknown candidate.
Unfortunately only the second line of it was readable. "Drapetae omnes (rogant)"
The translation of the "Drapetae" would have been "the fugitive or runaway slaves"! [CIL IV 7389]
See Della Corte, M., 1965. Case ed Abitanti di Pompei. Napoli: Fausto Fiorentino. (p.306)
According to Epigraphik-Datenbank Clauss/Slaby (See www.manfredclauss.de), these read as –
L(ucium) Albucium Celsum
aed(ilem) o(ro) v(os) f(aciatis) Earinu s rogat d(ignum) r(ei) p(ublicae) [CIL IV 7387]
Drapetae omnes [CIL IV 7389]
According to Varone and Stefani, these were found to the east (left) of the entrance of I.19.4, but are no longer conserved.
See Varone, A. and Stefani, G., 2009. Titulorum Pictorum Pompeianorum, Rome: L'erma di Bretschneider, (p.172-3 with photos)