VII.5.10 Pompeii. Forum Baths. Entrance to courtyard used for storage.
Excavated 1823?
Other parts of the baths: VII.5.2 VII.5.7 VII.5.8 VII.5.12 VII.5.24 VII.6.17 VII.6.18 Forum Baths Plan
<![if !vml]>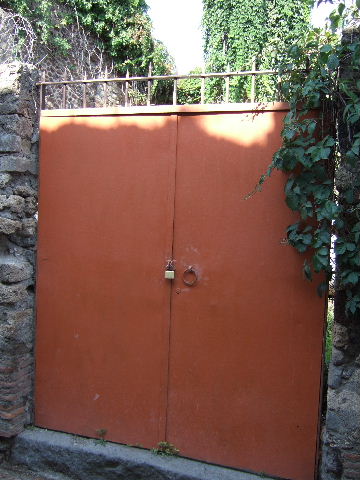 <![endif]>
VII.5.10 Pompeii. September 2005. Entrance (36 on plan) to courtyard (33).
The courtyard was used for the storage of wood, charcoal and consumables for the baths.
According to Niccolini (see plan) in the courtyard there were:
Two pillars (34) supporting the roof of the courtyard.
A staircase (35) that went above the roof of the baths
A corridor (32) to the boiler area.
See Niccolini F, 1890. Le case ed i monumenti di Pompei: Volume Terzo. Napoli.
Other parts of the baths: VII.5.2 VII.5.7 VII.5.8 VII.5.12 VII.5.24 VII.6.17 VII.6.18 Forum Baths Plan